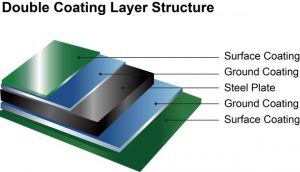 Our glass fused to steel water tanks meet all engineering standards:
Engineered to local environmental conditions
Designed to exceed AWWA D103-09 standards
Meets NFPA 22 standards for private fire protection
Each tank includes a standard full-scale structural engineering package and can be wet stamped and designed to your project location
Contain Water Tanks Inc. "GFS" Water Storage Tanks are overlapped and hand bolted together on site, creating a double thickness of steel that enhances the durability and strength of the tank.
Contain Water Tanks Inc. "GFS" Corrugated Steel Water Storage Tanks are easily field erected and assembled without the need for heavy equipment (depending on the size). We have specialized packaging systems to ensure each tank application can be easily trucked in, tractor carried, or even dropped by helicopter when grading an access road is not possible or desirable.
The most common use for Contain Water Tanks Inc. "GFS" Water Storage Tanks:
Potable Water
Storm Water
Treatment Tanks
Gray Water Frac
Thermal Storage
Mining, Minerals
Processing Tanks
Fish Brooding Tanks
Fresh Water
Clarifier Tanks
Chlorine Contact
Agriculture/Aquaculture
Fire Protection
Water Storage Tanks
Irrigation Water Tanks
Tanks Industrial
Sand Filter
Wastewater Processing
Water Cooling
Quarry Bins
Brewery & Winery Tanks
Rainwater Harvesting
Our professional and family operated staff can walk you through every step required to ensure a water tank that meets your specific requirements.
At Contain Water Tanks Inc. we service what we sell and hold a strong dedication to commitment and quality.
Contain's philosophy is simple...we provide quality service, quality products and have an unprecedented approach to obtain the best customer service in the industry.